Water Level Control Float Switch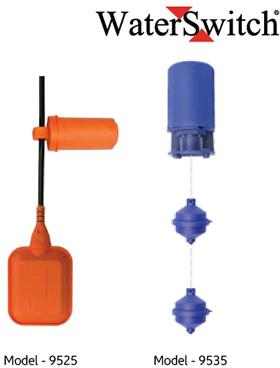 Business Type
Manufacturer, Exporter, Supplier, Retailer, Wholesaler, Trader, Distributor, Importer
Type
Fully Automatic
Operating Voltage (AC)
110V / 240V
Connecting Load
15 Amp
Click to view more
Product Details
Direct Load (1 Phase)
1 HP
Indirect Load (contactor Coil) (1 or 3 Phase)
Any Size
Sinicon water switch effectively monitors and controls water/liquid levels in the overhead tank, sump, and well etc. It prevents overhead tank from overflowing and also prevents overflowing of sump, well etc. Thanks to sinicon water switch, the user need not worry about switching the electric water pump on and off and makes water available round the clock.
Functions & Features
Fully Automatic Operation
Switches water pump on when overhead tank is empty and switches water pump off when overhead tank is full
Switches water pump off when sump/well is empty and allow pump to run only when the sump/well is filled up to the set limit.
Extremely easy to install
Fit and forget type and no routine maintenance required.
Applications
Villas, apartments, sewage plants, water treatment plants, mixing and filling plants etc.
Special features on request
Higher water columns (9535)
Cable length (9525)
Looking for "
Water Level Control Float Switch

" ?
Piece