Water Combo Starter Panel T1 & T2 Motor Control Panel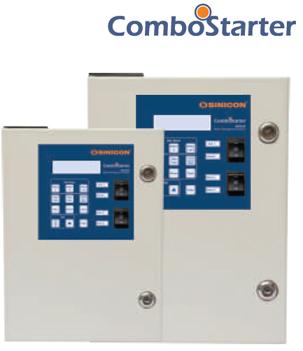 Business Type
Manufacturer, Supplier, Retailer, Wholesaler
Input Voltage
440V
Overload Protection
Thermal
Ingress Protection
As Per request
Click to view more
Sinicon ComboStarter Panels are motor control panels with programmable timer (Real time or Cyclic) controlled water level control system integrated for the purpose of switching single or dual motors (in a run/standby motor configuration) automatically; it is primarily used for automatically filling the water tank whenever the tank is empty and/or at pre-determined times in a day and can also be used for emptying the tanks/flood water etc.
It also can be used as a normal pump control panel .
Super Auto Function with Artificial Intelligence : If you are not sure of water availability in the bore-well and that you do not know how much time pump can be operated then leave it to ComboStater, It takes care of the water availability in bore-well, possible pumping duration etc through an innovative intelligent system and makes the best out of the bore-well. This feature available only in cyclic timer mode
Applications
Villas, apartments, water treatment plants, mixing and filling plants, agricultural watering, sewage plants, industrial use etc
Pressure pumping.
Fire water pumping.
Functions & Features
3 phase motor control panel with timer controlled water level control function.
Water level controller for single or dual run/standby configuration motors.
Motor starts and stops at desired time in a day.
Start time and stop time is programmable for 32 slots in a day.
Over voltage, under voltage and multiple dry run protection.
Over voltage and under voltage limit is programmable.
Single phase prevention/phase loss prevention
Automatic Overload protection and Optional Manually adjustable thermal overload relay.
Manual operation for bye-passing all water level control functions, over voltage, under voltage and dry run protections.
In case of dual motors in a run/standby mode, both motors can be run alternatively one after other. Also during dry run, if run motor trips the standby motor starts automatically.
LCD display for easy reading and also for programming.
Energy Saver
No Routine maintenance required
Special Features on Request
Other voltage and frequency
Operation conditions/ IP Standard
Higher Capacity
RS 232/RS 485 Communication
Looking for "
Water Combo Starter Panel T1 & T2 Motor Control Panel

" ?
Piece(s)