Water Combo Starter Panel AT Motor Control Panel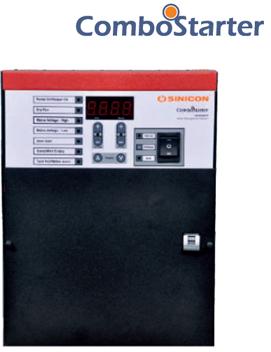 Business Type
Manufacturer, Supplier, Retailer, Wholesaler
Applications
Villas, Apartments, Water Treatment Plants, Mixing and Filling Plants, Agricultural Watering Etc.
Controller Type
WC9526 AT
Operating Voltage (AC)
155V to 270V AC 1 PH
Click to view more
Product Details
Starter Capacitor (optional)
To Suit Motor Rating
Run Capacitor (optional)
To Suit Motor Rating
Starter Capacitor Timer Contact Rating
25a Max.
Overload Protection
25A Max. Adjustable (10A Factory Set)
Dry-run Protection
Yes / Multiple Protection
High Voltage Cut-off (AC)
Adjustable (260V Factory Set)
Low Voltage Cut-off (AC)
Adjustable (160V Factory Set)
Sinicon ComboStarter AT System is a Digital Electronic Starter with built-in WaterSwitch based automatic Water Level Controller and programmable ON/OFF timer. It prevents overhead tank from overflowing and also prevents the overpumping of sump, well etc. The user need not worry about switching the electric water pump ON and OFF and it makes water available round the clock.
The easily programmable timer helps programme the water pumping duration based on the water availability in a bore-well for domestic and/or agricultural applications. The ComboStarter also prevents pump from running when well is empty, or during low or high voltage or dry-run situation, thus avoiding damage to motor resulting in increased availability, cost saving in electricity and maintenance.
Super Auto Function with Artificial Intelligence : If you are not sure of water availability in the bore-well and that you do not know how much time pump can be operated, then leave it to ComboStater AT. It takes care of the water availability in bore-well, possible pumping duration etc through an innovative intelligent system and makes the best out of the bore-well. 
Special Features on Request
Other voltage and frequency
Operation conditions
Higher capacity
Real Clock time ON/OFF
Functions & Features
Single phase motor starter for single motor application with built-in timer controlled water level control function.
Motor starts and stops as per cyclic timer programmed interval.
Programmable over voltage protection, under voltage protection and overload protection. Multiple protections for dry-run through sensor as well as with current sensing.
Manual operation for bypassing all water level control functions, dry-run, over voltage, under voltage and overload protections.
Looking for "
Water Combo Starter Panel AT Motor Control Panel

" ?
Piece(s)